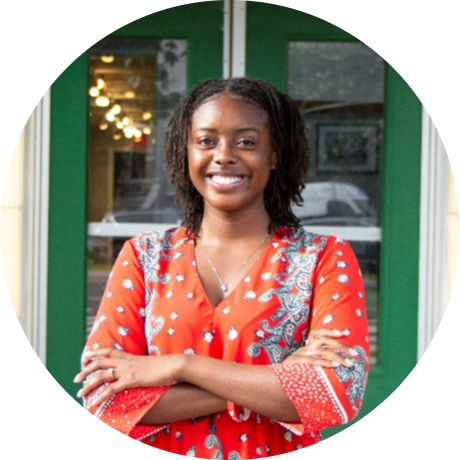 Inaugural Class Chair & HBCU National Center Ambassador
Anyiah Chambers joined the HBCU National Center for the first time in fall 2021. During her semester in Washington, D.C. Chambers interned for Congresswoman Nanette Barragán (CA-44) and became very involved with the HBCU NC, representing the National Center at fundraising events and the inauguration of Lisa Matthews as president of the National Press Club.
After returning to Kentucky State University to complete her sophomore year of college, Chambers received a summer internship with the Department of Homeland Security. Since her return to D.C. she was named an HBCU Scholar by the White House Initiatives on HBCUs. She continues to act as an ambassador to Congressional offices and corporate partners. If you would like to reach Ms. Chambers, please contact HBCUNC@InternsDC.com.

In 2022, grants to the following institutions were announced at the National Center Reception hosted by Ambassador, Anyiah Chambers, and the Hon. Eleanor Holmes Norton:
Alabama A&M State University, Dr. Daniel Wims
Alabama State University, Dr. Quinton Ross, Jr.
Albany State University, President Marion Fedrick
Allen University, Dr. Ernest McNealey
Arkansas Baptist College, President Regina Favors
Atlanta University Center Consortium, Dr. Said Sewell
Benedict College, Dr. Roslyn Clark Artis
Bennett College, President Suzanne Walsh
Bishop State Community College, President Olivier Charles
Chicago State University, President Zaldwaynaka Scott
Clinton College, Dr. Lester McCorn
Coppin State University, Dr. Anthony Jenkins
Denmark Technical College, Dr. Willie Todd, Jr.
Dillard University, Dr. Rochelle Ford
Edward Waters University, Dr. A. Zachary Faison
Fort Valley State University, Dr. Paul Jones
Harris Stowe State University, Dr. LaTonia Collins Smith
Norfolk State University, Dr. Javaune Adams-Gaston
Jarvis Christian College, Dr. Lester Newman
Johnson C. Smith University, President Clarence Armbrister
Lane College, Dr. Logan Hampton
Lawson State Community College, Dr. Cynthia T. Anderson
Mississippi Valley State University, Dr. Jerryl Briggs
Morris Brown College, Dr. Kevin James
Oakwood University, Dr. Leslie Pollard
Prairie View A&M University, President Ruth J. Simmons
Rust College, Dr. Ivy Taylor
Saint Augustine's University, Dr. Christine Johnson-McPhail
Saint Phillips Community College, Dr. Adena Williams Loston
Savannah State University, Dr. Kimberly Ballard-Washington
Shaw University, Dr. Paulette Dillard
Shorter College, President Jerome Green
Southern University and A&M College, President Dennis Shields
Spelman College, Dr. Helene Gayle
Stillman College, Dr. Cynthia Warrick
Tougaloo College, Dr. Carmen J. Walters
Trenholm State Community College, Dr. Kemba Chambers
Tuskegee University, Dr. Charlotte P. Morris
University of Maryland Eastern Shore, Dr. Heidi Anderson
West Virginia State University, President Ericke Cage
.
HBCU NATIONAL CENTER ADVISORY PARTNERS
LaKeitha Anderson, Policy Director, Brownstein Hyatt Farber Schreck
Kemal Atkins, Ed. D, Delaware State University alumnus
Bill Broydrick, Broydrick & Associates
Randy Broz, Angerholzer Broz Consulting
Hayley Dashiell, Former HBCU National Center Coordinator
Marie Dennis, Clark Atlanta Alum, First Director of the Center
Ed Freel, Senior Fellow, longtime advocate of experiential education
Langston Emerson, Partner at Mindset, CBCF and Howard alumnus
Crispin Etherington, Gene Albert's vision of a national center
Doug Greene, Sandy Spring Bank
Lisa Matthews, Former National Press Club Journalism Institute President
Maureen Hoyler, President, Council for Opportunity in Education
Dayna Kent, VP of Membership for the National Alumni Council of UNCF, graduate of Edward Waters University
Kimberly Ross, VP Federal Relations, American Council of Life Insurers
Emily Spain, Advocate for next-generation leadership
Dr. Dietra Trent, Executive Director, White House Initiative on HBCUS
Leonard Washington, COO, Entertainment Industry College Outreach Program
House & Senate members of the Bipartisan HBCU Caucus